Life of an Area Manager
Case Study: David White, Liverpool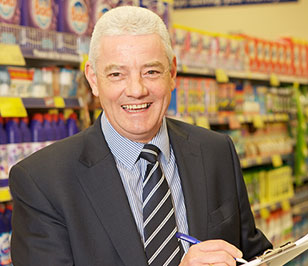 Why did you choose to work at B&M?
After working for another major food retailer for a number of years I needed a new challenge. When I looked around the market place I realised that B&M Retail were so different. I have been given a great opportunity to do what I've always wanted to do. In the past I've been constrained by red tape and the process associated with the larger companies.
What makes B&M Retail different to these 'other' retailers that you've worked for?
First and foremost, the autonomy that everyone has. Every colleague has the ability and opportunity to have influence at the highest level in our business. Secondly to see advances implemented at B&M Speed... 'if works, Do it!' Finally, we don't tie up our Store Managers and their teams in processes and procedures. We believe in keeping it simple. Its their shop, to order what they like, tailored to their vision and their local community.
What vision do you have for your region?
I look for my team to work hard and play hard and come to work to have fun. That's what it is all about - having fun! If all of our teams are enthusiastic about what they are doing, the same enthusiasm is passed onto our customers who in turn will enjoy their shopping experience. In addition, everyone should strive for operational excellence, delivering great customer service.
What are your future plans?
Without a doubt to have B&M Retail acknowledged and seen as the best variety retailer in the UK. I ideally want my next Area Manager to be one of my developing Store Managers.