Store Finder
B&M Store with
Garden Centre
Store Notes:
*Your B&M Ipswich store is moving from its current location at Unit 1, Ransomes Europark, to its new home on Felixstowe Road, at the site of the former Homebase. We apologise for any inconvenience caused while we bring you a bigger and better B&M store.
Your current B&M Ipswich store will CLOSE: Sunday 1st September 2019 (last day of trade)
Your brand new B&M Ipswich store will OPEN at its new site: Saturday 21st September 2019*
If you find yourself shopping in Ipswich for homeware then you won't be far away from our B&M Home Store located in Ransomes Europark, just off the A1189.
Customers visiting the store will be delighted to find a massive range of home products including furniture, soft furnishings, storage & shelving, bedding, curtains & poles, kitchen accessories, bathroom accessories and many other household essentials.
While drivers can navigate to the store by leaving the A14 at junction 57 onto the A1189, those taking public transport should use bus services such as the 2, 3, 76, 77 and 511. You'll find parking available, but it is advised that you check for any restrictions or time limits before your visit.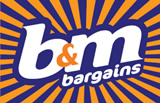 B&M IPSWICH - TEMP CLOSED
Address
Unit 1
Ransomes Europark
Ipswich
Suffolk
IP3 9SX
Phone Number
Opening Times