How To Keep Your Dog Calm on Bonfire Night
30 October 2021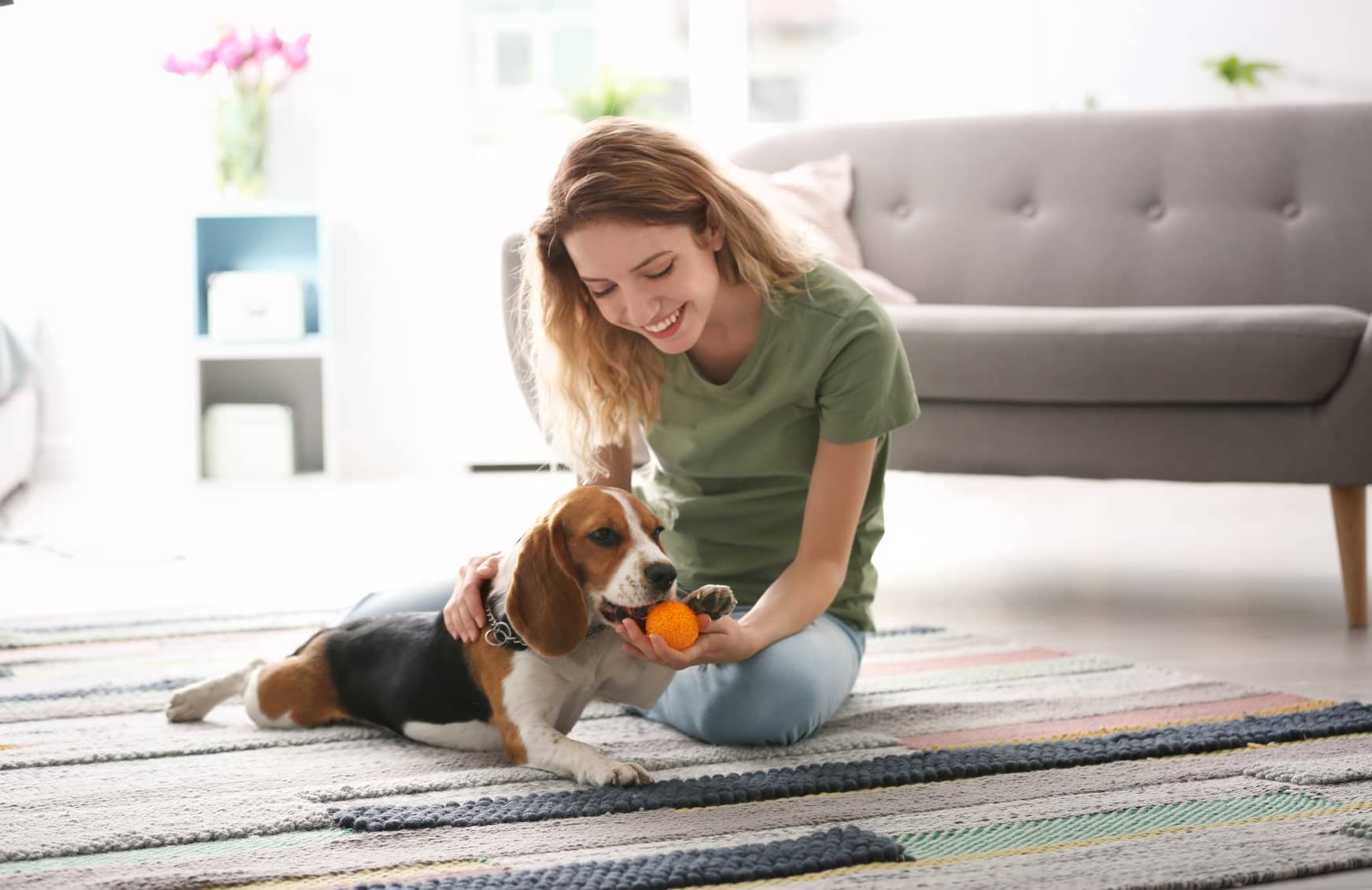 Fireworks season is nearly upon us! Many dogs are scared of fireworks - and the stress and anxiety caused by loud bangs and flashing lights can be detrimental to their health, or even cause them to run off. 
In this article, the B&M team shares their top tips on how to keep a dog calm on bonfire night. For further suggestions, don't hesitate to speak to your vet.
Keep Them Indoors
While you can look up the times of local firework displays, private residences are more likely to hold their own firework events at this time of year too.
Pet owners should walk dogs earlier in the day to avoid taking them outside when sudden, loud noises from fireworks are more likely.
Keep them inside where they feel safe, and, if they really need to go outside, be sure to keep them on a lead and try to distract them as much as possible.
B&M Top Tip: You may try to desensitise your pets by playing recordings of fireworks to them quietly on your phone and gradually increasing the volume over a number of weeks. This will teach your dogs to get used to the sound.
Make Sure They're Distracted
Play with your dog with their favourite toys, provide delicious treats and snacks or instigate a fun game to keep their mind off the noises and help them stay calm.
B&M Top Tip: Chewing is an anti-anxiety reflex, so why not pick up some super crunchy or chewy treats and toys to soothe them?
Treat Them to a New Toy
There is nothing more exciting than new toys for your pooch - so dog owners might decide to pick up a few super exciting items to keep their furry friends entertained throughout the evening.
B&M Top Tip: Experiment with different toys to see which is the most effective. The more new and exciting stuff there is to play with, the more distracted your pet will be!
Shower Them With Love
Let your dog snuggle up with you and give them lots of hugs. Don't get stressed; they'll sense this and it may make them worse.
Do their favourite things - brush them if they like being brushed, play with them, feed them and simply spend time with them. They will likely feel much safer.
Build Your Dog a Den
Create a safe nest in the quietest area of the house, including luxury bedding, a cozy blanket and plenty of toys. They'll enjoy a warm, enclosed space.
B&M Top Tip: You can pick up specialist calming dog coats and wraps that put gentle pressure on their bodies like a loving hug.
Try the techniques above to calm your dog this bonfire night. Don't forget, cats can also get scared of fireworks! Food is always welcome, so feed them some lovely chewy treats and delicious snacks to keep them distracted, then give them a quiet place to hide until it's all over.
Check out the excellent selection of toys in our Pet section to find the perfect way to distract your furry friends.
Do you have any special tips for dogs on bonfire night? Share them with the B&M Community via Twitter, Facebook or Instagram.
---
Related Products