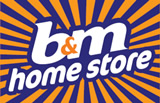 B&M CONNSWATER

(

478

)
Address
Unit 7
Connswater Retail Park
Belfast
County Antrim
BT5 5DL
Phone number
In-store Services
Laminate Flooring, Lottery, Paint, Vinyl Flooring, Wallpaper
Payment Options
Cash, credit card, debit card, please use contactless card payments where possible
Store Notes
Welcome to the B&M Homestore in Connswater, which is conveniently located in the busy Connswater Retail Park. The store is the perfect go-to place for household essentials, gifts and furnishings for the home.
From groceries to electrical goods, pet supplies to DIY equipment, this is the perfect shopping location for quality goods at brilliantly low prices. Looking for a furniture shop in Connswater? Take a look at our range of furniture – from tables to bookshelves and more in store.
The store is easily accessible off Albertbridge Rd, with car parking available – however, it's recommended you check for any time limits or restrictions prior to your visit. This store is well served by bus routes too – with the 1, 1a, 1b, 2, 2a, 4C, 4a, 4b, 5, 5d, 5f, 7, 7a, 9, 9b, 10, 10b, 11, 23, 27, 28, 28a, 502a, 502b, 505, 511 and 511b stopping close by.